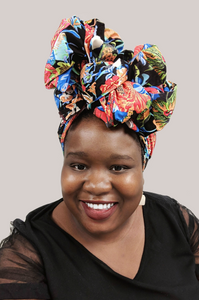 Beautiful vibrant floral wrap. Print appears on one side. 97% cotton. 
Care: Hand wash or machine wash cold with similar colors. Hang to dry. Iron on opposite side of pattern.
Details: 97% Cotton 3% Elastine; 70" x 19"" (size may slightly vary)
 
All headwraps are a large rectangular scarf, approx. 70 x 19 inches. Our wraps are handmade in Toronto, Canada. As our headwraps are handmade, sizes may slightly vary. Due to lighting the color may vary slightly, but we promise you a gorgeous headwrap!
Don't know how to tie a wrap? HERE are a few headwrap tutorials we've put together.