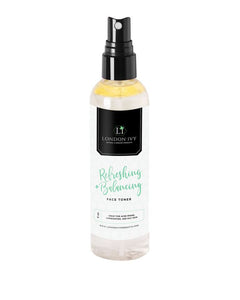 This refreshing alcohol-free toner with Chamomile & Lavender floral water will balance, revitalize, hydrate and tone your skin after cleansing.
Made with Natural and Organic Ingredients Including: Rosehip Oil, Witch Hazel, Rose Water & Chamomile floral water
Great for blemish-prone, combination, and oily skin.
Filled with antioxidants! This refreshing tonic will take especially gentle care of your skin. The Chamomile floral water will soothe event the most sensitive skin. Rosehip oil helps to remove those stubborn last bits of dirt & makeup while minimizing large pores. Rose water reduces inflammation and redness, while the lavender water hydrates. With consistent use will help to even out complexion and reduce acne breakouts. Free of parabens, silicones, mineral oil, sulfates, surfactants & SLS.
Directions: Shake before use.
Apply morning and night after cleansing. Moisten a cotton pad with the toner, apply to face and wipe away to remove excess dirt and oils. OR apply 1 - 3 sprays of toner directly to your skin and air dry for 1 - 2 minutes. Follow up with one of our serums. [Keep out of eyes] 
Ingredients:
Witch Hazel Distillate (Alcohol-Free)•, Aloe Barbadensis (Aloe Vera) Leaf Juice,  Lavandula Angustifolia (Lavender) Floral Water•, Chamaemelum Nobile (Chamomile) Floral Water•, Distilled Water / Aqua•, Rose Damascena (Rose Water)•, Camellia Sinensis (Camellia) Seed Oil*, Rosa Moschata (Rosehip) Seed Oil•,  Mentha Arvensis (Peppermint)*, Tocopherol (Vitamin E)• [For External Use Only]
* USDA Certified Organic | • 100% Natural/Natural Origin  | 
Precaution: For External Use Only. Keep away from eyes